No Upfront Marketing Costs At Rollos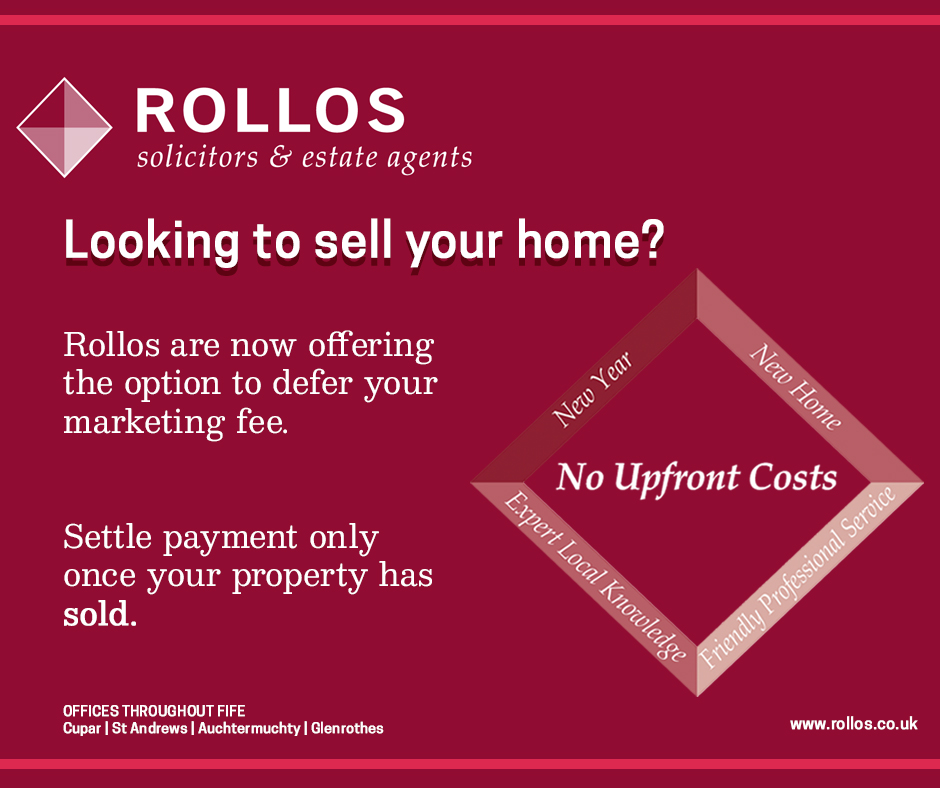 Rollos are now offering a fully comprehensive marketing package with zero upfront costs. This means you can settle payment with the proceeds from your sale.
With a network of offices across Fife, our professional and highly motivated sales team will provide a free market valuation of your property and discuss with you and develop an individually tailored marketing strategy designed to achieve a speedy and satisfactory sale. Rollos produce in-house high quality digitally printed sales brochures, with internal and external photographs and floor plans that will highlight your home to best effect. Sales brochures can be downloaded for our website and are available from all our offices to off-street enquirers and further afield through our extensive mailing system.
Once missives are concluded and the sale has been finalised, you can then look to pay the agreed marketing fee.
Contact your local office today to book your free valuation with one of our Property Managers.
67 Crossgate, Cupar                        6 Bell Street, St Andrews
KY15 5AS                                          KY16 9UX
01334 654081                                  01334 477700
cupar@rollos.co.uk                        standrews@rollos.co.uk
NH,  North Street, Glenrothes        36 Cupar Road, Auchtermuchty
KY7 5NA                                              KY147DD
01592 759414                                     01337 828775
glenrothes@rollos.co.uk                 auchtermuchty@rollos.co.uk