Testimonials
We're happy that you're happy!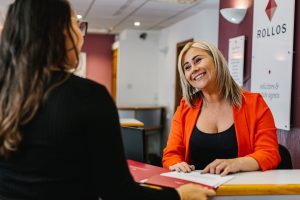 "Your help, and that of your staff, has made my remote management of the flat a good deal easier and less stressful than it otherwise would have been, and I'm very grateful to you for going above and beyond for us".
"Many thanks for your efforts and assistance to make our property "adventure" in Scotland run smoothly.  It has been a pleasure working with each of you to make it happen and you have done well to make it relatively straight forward given all the potential challenges of distance and time zone."
"If you are looking for an upfront, honest and extremely experienced family lawyer, then look no further than Mr Tony Anderson of Rollos. I will always be grateful for his efforts, which lead to a completely fresh new life of freedom for my family. His service along with the Rollos team was outstanding." Kay Thomson.
"Dear Janie and Louise, Frazer and I would like to say a big thank you to you both for helping us sell our house. We were over the moon with how quickly it sold and the final price that we achieved. You both were extremely good at keeping us updated throughout the whole process, were always available to chat with and made our experience very positive. We are looking forward to hearing from Donna to get the next part of the journey started. Thank you again."
"I would like to thank you for all your help in obtaining my redundancy payment. My family and I are very grateful."
"Just a quick note to say thank you for your advice on my case. I don't think I would have been so steady if it had not been for your support. Thank you to you and your team!"
"Alison, Thank you very much for your work on this. I know it's been a bit tricky at times and has to be treated delicately but I've been very happy with the service. As I said yesterday I will give you a shout in the future if I need your assistance for anything else as you just never know what is around the corner!"
"Donna, Thank you for all your hard work and patience throughout. We are extremely happy in our new home and without you that would not have been possible."
"Dear Tony, Thank you for the great effort you and your team contributed to successfully winning my case. I am relieved it is now over and I can go forward with my life."
"Just want to say thank you for your kind words of encouragement, they mean a lot to me. It has been a difficult time for me made worse by a Tribunal but thanks to you, you helped me through."
"Donna, Thank you. You have been kind, approachable and worked so hard to get my mother's estate all tied up. During this sad time you have been our guiding light so thank you for that."
"Good afternoon Tony, thank you for providing an excellent service and giving me very good advice. Would certainly refer Rollos to any friends."
"Thank you. We expected our house purchase to be stressful but you made it so easy for us and we will definitely recommend you to others."
"Tony, We would like to thank you so very much for your help as it was very difficult and stressful time for us. You are a very kind and generous person and we are glad you were recommended to us. Thank you very much for your help."
"Thank you for all your hard work and patience throughout. We are extremely happy in our new home and without you that would not have been possible."
"A massive thank you for all your help with getting my first home. You made the whole process easy and stress free for me."
"Rollos were with us every step of the way." Mr and Mrs T Purdie
"Hi Tony, Can't thank you enough. You too have been a pleasure to work with and really understood where I was coming from and where I wanted to get to. THANKYOU. "
"Dear Julie, Many thanks indeed for all your work sorting out my mother's affairs. It has been a pleasure to work with you, and all comparatively painless on our part. So thank you again."
"I've been with Rollos for two years and the current employees I've been in contact with have been very efficient: fast replies to emails and quick problem solving capabilities when sorting anything wrong with the house. Both qualities being very reassuring as a tenant in a very competitive property market"
"While we have not been tenants with Rollos for long, it is clear that they are at the top of their game. When my flat-mates and I began our lease with Rollos, we found the flat in stellar condition with our letting agent,  personally overseeing the redecoration and cleaning. Since then, Scott and the team at Rollos have been communicative, diligent, and cordial and we are very pleased with their service. As we have had an overwhelmingly negative experience with another letting agency in town, we appreciate by contrast the professionalism and dedication of the Rollos agency."