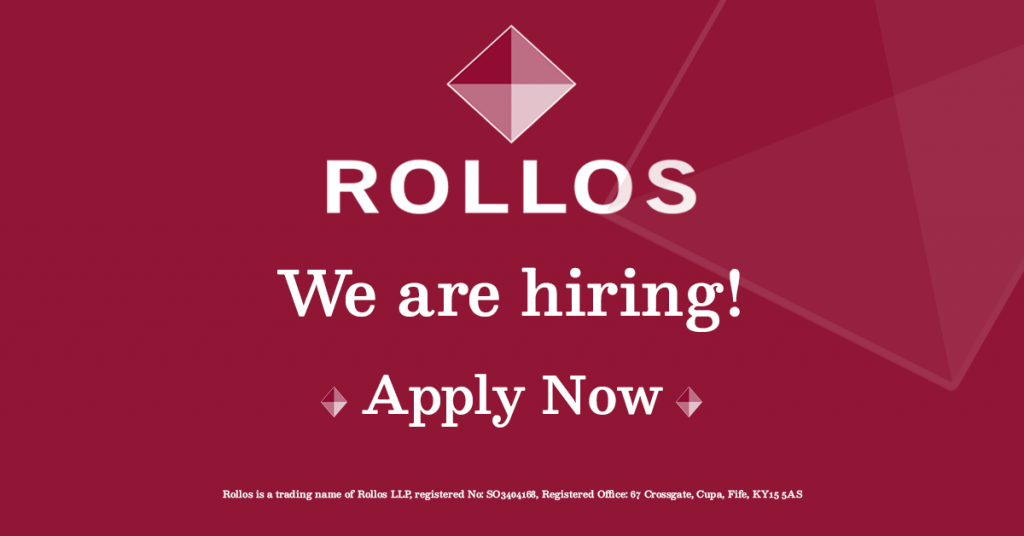 We are always interested in hearing from talented people and welcome speculative applications as well as responses to advertised vacancies.
PRIVATE CLIENT PARALEGAL
Rollos have an excellent opportunity for an experienced Paralegal interested in a challenging and varied post.
The successful candidate will be capable of managing a full caseload of Private client matters including Wills, POA and Executry work with minimum supervision.  The successful candidate will enjoy a high degree of direct client contact and have the ability to work as part of team, or independently.  Initiative and flexibility in managing a busy caseload will be essential.
Applications should be made in writing with accompanying CV and emailed to Heather Davidson, Practice Manager  heatherdavidson@rollos.co.uk
SOLICITOR
Rollos have an excellent opportunity for an experienced Solicitor interested in a challenging and varied post.
With at least 2 years' post qualifying experience and based in our Cupar Office, the successful candidate will be an all-rounder capable of managing a full caseload of Residential and Commercial Conveyancing and Private client matters including Wills, Powers of Attorney and Executry work with minimum supervision. The successful candidate will enjoy a high degree of direct client contact and have the ability to work as part of team, or independently. Initiative and flexibility in managing a busy caseload will be essential.
Applications should be made in writing with accompanying CV and emailed to Heather Davidson, Practice Manager
heatherdavidson@rollos.co.uk