Mental Health And Employment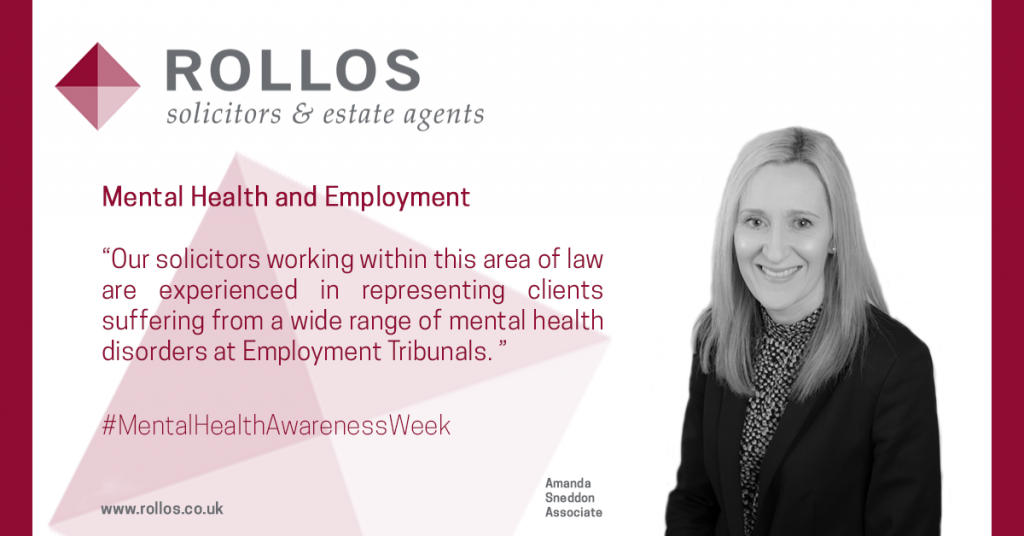 Earlier this year during Mental Health Awareness Week, Amanda Sneddon highlighted important advice on how Rollos can help employees dealing with mental health issues in the workplace.
We have a number of solicitors within the firm who provide legal advice in this area.  We represent clients who have experienced difficulties within their employment and may have been dismissed from that employment.  They might also have been subject to disciplinary proceedings which they feel were unnecessary or unjustified.  Very often individuals come to us when they have been dismissed following attendance management procedures having been carried out internally and after a period of absence the employer takes the decision to dismiss.
What many individuals are unaware of is the impact of the Equality Act 2010 within the realm of employment rights. That piece of legislation imposes certain legal requirements on employers to ensure that employees do not suffer discrimination within the workplace as a consequence of having a protected characteristic.  One of those protected characteristics is the existence of a disability.  An individual suffering from a diagnosed mental health disorder such as depression or autism will be covered by this particular legislation.  This effectively means that the employer is required to treat an employee who suffers from a mental health disorder differently from an employee who does not suffer from that illness.  Unfortunately many employers are still unaware of the obligations incumbent on them. 
Our solicitors working within this area of law are experienced in representing clients suffering from a wide range of mental health disorders at Employment Tribunals.  We also provide advice and guidance to those individuals who may be subject to internal disciplinary proceedings or grievance processes within their place of employment where the existence of a mental health condition is a relevant consideration. 
Our aim is to raise awareness and help educate individuals in relation to their employment rights when a mental health condition becomes an issue at work.  We are committed to assisting those individuals who require our specialist advice at times which are most likely to be the most difficult times of their lives.